State must act immediately to prevent large SNAP cut from hurting Montanans
Jul 14, 2021
At the end of June, Governor Gianforte announced the termination of Montana's state of emergency. This move effectively ends emergency Supplemental Nutrition Assistance Program (SNAP) benefits for over 46,000 Montana households. Unless the Governor and the Department of Public Health and Human Services takes immediate action, thousands of Montanans living on low incomes are at risk of a substantial cut in their food assistance.
Emergency allotments have helped thousands during uncertain times.
Montana ranks above the national average in numbers of adults and children reporting food insecurity. The health and economic consequences of the COVID-19 pandemic have made affording food substantially more difficult for individuals living on low incomes. An estimated 84,000 adults in Montana report the household did not have enough food to eat in the last week. For families with children, the crisis is even greater – 30,000 adults living with children report the children in the household did not have enough food to eat.
Substantial increases in food prices have made it even more difficult for families and individuals living on low incomes to afford food. Food prices have climbed 5 percent since May 2020 and are expected to continue rising through 2021.
Emergency allotments (EAs) are a temporary increase in SNAP benefits to help households living on low incomes weather the COVID health crisis, a volatile job market, and an unequal economic recovery. This additional benefit raised each household's SNAP benefits to the maximum benefit for their household size, supporting those hit hardest by the pandemic. For a state to receive emergency allotments, the state must either have a state of emergency in place, or an equivalent declaration approved by the USDA Food and Nutrition Service (FNS).
Montana households will lose nearly $100 a month in benefits. Some will lose even more.
Emergency allotments have been the largest source of pandemic related food assistance for people receiving SNAP benefits. With EAs, every household received at least $95 per month as of April 2021.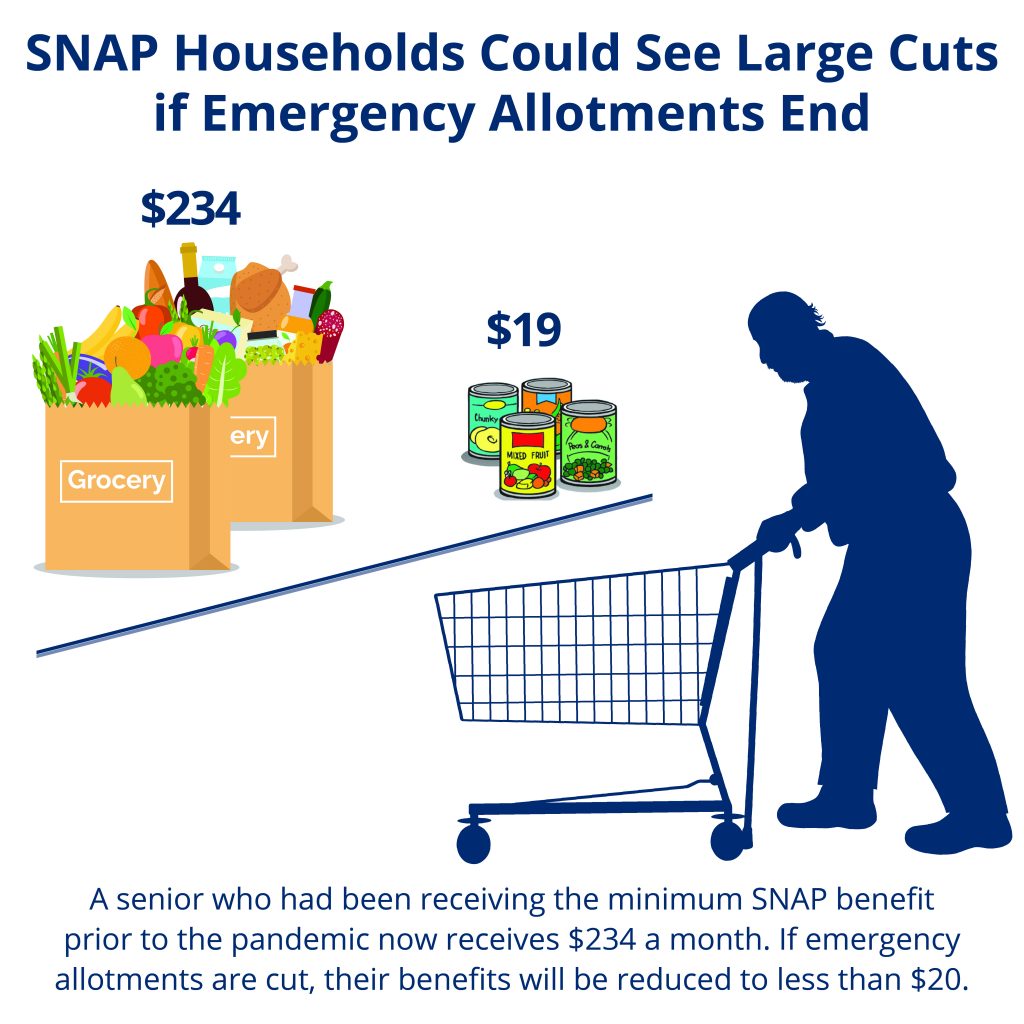 Some households will lose even more. For example, a senior who had been receiving the minimum SNAP benefit prior to the pandemic would now be receiving $234 with emergency allotments (as well as a 15 percent increase in SNAP benefits that USDA issued) each month. If emergency allotments end, they will find their benefits reduced to less than $20.
SNAP benefits have long been inadequate in addressing hunger. Even with the additional benefits the average per-person per-meal benefits is only $2.53. Without emergency allotments, families would be left with only $1.60 per person for each meal.
Emergency allotments strengthen Montana's economy.
A loss in emergency allotments will create unnecessary hardship for over 46,000 households in Montana. This move will not only make it difficult for families to put food on the table, but will also endanger Montana's post-pandemic economic recovery as the state loses $8 million a month in federally-funded assistance.
SNAP has long been one of the most effective ways to support the economy during financial crises, with every dollar spent in SNAP generating up to $1.50 in economic activity. Emergency allotments generate up to $12 million in economic activity every month, supporting local stores, businesses, and farmers across the state.
SNAP serves as a vital work support, with four out of five households having one or more individuals who worked within the last year. The majority of those who are not currently employed are children, elderly, or disabled. Nearly half of SNAP households in Montana (48 percent) have children, and 47 percent of households include one or more individuals living with a disability. Nearly one-third of SNAP households have an individual over age 60. These households, who were hard hit by the pandemic, rely on emergency allotments to meet their nutritional needs in the face of spreading COVID variants and rising food costs.
The state has options to preserve expanded SNAP benefits for struggling Montanans.
Several states that have ended their initial state emergency declaration, including Utah, Wisconsin, Oklahoma, Kansas, and Minnesota, are still issuing emergency allotments. FNS has signaled it is willing to work with states who have ended their emergency orders to ensure individuals are still receiving the boosted SNAP benefits. Even though Montana is no longer in its initial state of emergency, the state still has the ability to retain emergency allotments.
Last week, Montana Budget & Policy Center, the Montana Food Bank Network, and 27 other organizations around the state, including food pantries and faith groups, sent a letter to the Governor's office and the Department of Public Health and Human Services asking the state to work with FNS preserve SNAP benefits for Montanans. As the state moves towards the next phase of pandemic recovery, it is essential to preserve help for those who are most in need of support.