Tax Cuts for the Wealthy and Short-term Rebates Rushed Through Before Lawmakers Even See the Full Budget
Mar 09, 2023
HELENA, Mont. (Mar. 6, 2023) — A diverse group of stakeholders express great concern at the Legislature rushing through $1 billion in tax cuts that overwhelmingly benefit the wealthy and short-term rebates, before even seeing the full budget.
"These bills are being passed and signed into law before lawmakers have even considered the infrastructure and employee recruitment needs presented in the state budget," says Amanda Curtis, president of MFPE. "There is no reason to rush $1 billion in tax cuts for the rich when critical positions are going unfilled."
A model of SB 121, HB 221, HB 192, and HB 222 show that the wealthiest 1 percent of Montanans will see over $9,000 in annual tax cuts from these bills while those with incomes up to $46,000 will see a few hundred dollars on average, most of which is one-time.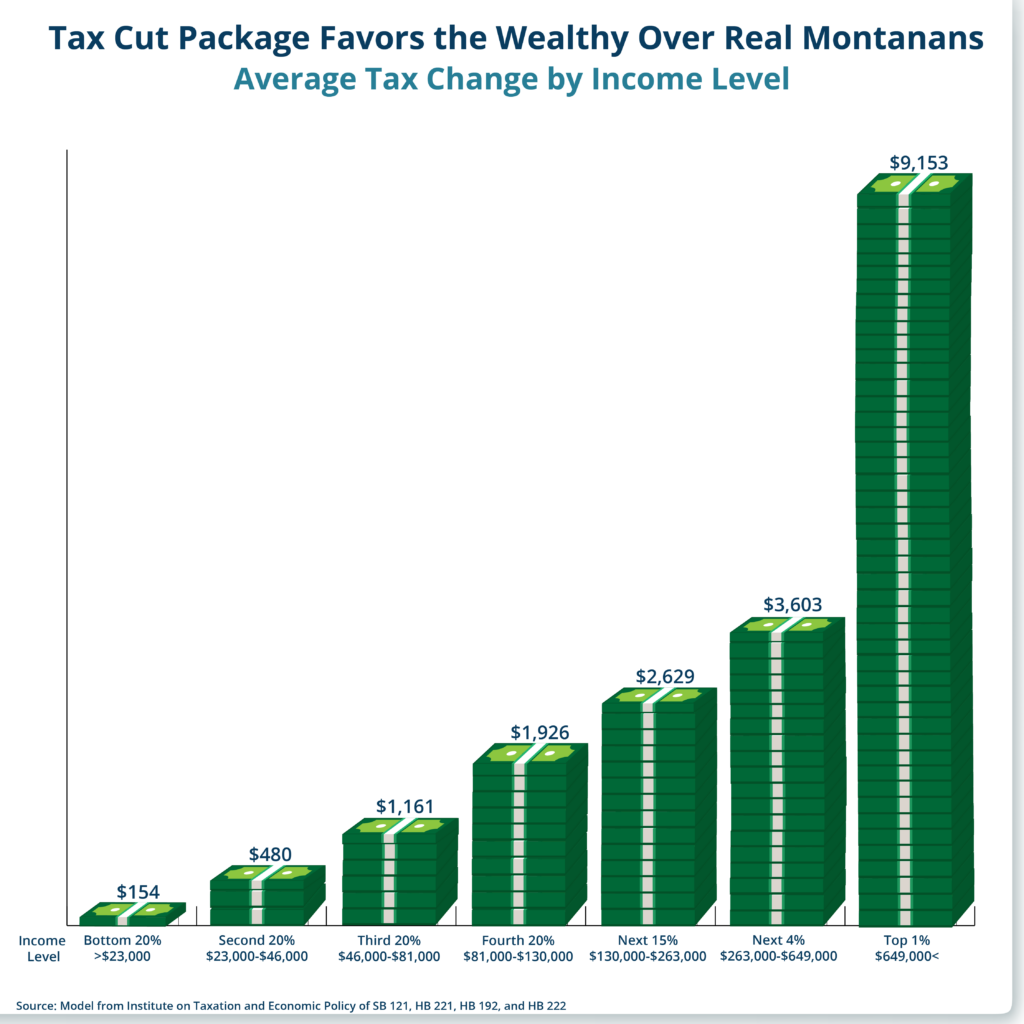 Montana Budget & Policy Center is concerned about the long-term impact these tax cut bills will have on services for our seniors and those living with disabilities. "Revenues are high today, the majority of which result from temporary federal stimulus and inflation. These bills will result in a significant cut to our tax base, which is risky, especially with economic uncertainty on the horizon," says Rose Bender, director of research for the Montana Budget & Policy Center.
"With Montana nursing homes closing at an alarming rate and other critical workforce needs unaddressed, such as child care and affordable housing, pushing these bills through now is premature, if not reckless. It is the proverbial cart before the horse," Margie MacDonald of Big Sky 55+ cautioned.
While the legislature awaits a hearing on the full budget until the second half of the session convenes in March, subcommittees have moved forward with proposals for their sections of the budget. Gaping holes remain including fully funding Medicaid provider rates, extending Medicaid coverage for 1 year following the birth of a child, and fully funding the Office of Public Defender that provides legal advice to Montanans living on lower incomes.
MEDIA CONTACT:
Rose Bender
Montana Budget & Policy Center
406-546-5567
Co-signees
Montana Budget & Policy Center
Montana Women Vote
Forward Montana
Western Native Voice
Big Sky 55+
SEUI 775
Montana Federation of Public Employees
Montana Environmental Information Center
American Civil Liberties Union
Montana Food Bank Network
Planned Parenthood Advocates of Montana
Montana Human Rights Network
Montana Coalition Against Domestic & Sexual Violence
Blue Mountain Clinic
Bridgercare
All Families Healthcare
Montana NOW
Montanans For Choice